CLEAR for Business helps organisations to increase employee wellbeing, attendance and engagement, supporting increased productivity and staff retention.
CLEAR for Business is a Workforce Offer with an important difference. By investing in your workforce through CLEAR you will also be helping many other people in the county that we are proud to call home. Every penny of surplus will be reinvested into our charitable work providing therapy and counselling for children and adults across Cornwall who have been harmed by abuse, violent crime and other traumatic events
So how CLEAR for Business can help?
We work alongside businesses to understand their specific needs and create tailored solutions to meet those requirements. There is a broad menu of support including:
Business Training:
Accredited and bespoke training, delivered online, in your workplace or in our training spaces:
Mental Health in the Workplace and Beyond (for management teams)
Mental Health First Aid (for workplace champions)
Safeguarding L3 (an accredited lifetime qualification)
Connect 5 (positive emotional wellbeing – for all employees)
Bespoke workshops tailored to your need (e.g. impact of trauma; emotional resilience, managing anxiety, sexual harassment, mindfulness, sleep and more)
Resources:
CLEAR about Wellbeing journals for your staff
A signposting toolkit for other help and support
Policy development and implementation
Helpline and signposting service for managers, supervisors and peer supporters
Bi-annual safeguarding bulletins and updates
Opportunities to volunteer, fundraise and share skills
1-2-1 confidential counselling for individual employees:
Our team of qualified therapists and counsellors can support people who have witnessed or experienced trauma, including traumatic bereavement, abuse and violence. We can also provide support for people who self-harm.
If a member of an employee's family is struggling with any of the above, this can impact on that team members attendance and performance at work. We can help them to understand what is happening for their family member and how best to support them
Critical Incident Support:
De-escalation support for people who witness trauma in the workplace (group and/or 1-2-1)
Ongoing emotional support for longer-term impacts
CLEAR for Business Support can be purchased as stand-alone items or through monthly payment plans for our Silver, Gold and Platinum options. To find out more contact Rachel Jones This email address is being protected from spambots. You need JavaScript enabled to view it.
---
Download here, the pdf 0623 CLEAR for Business Brochure v2 0 Digital (2.24 MB)
---
To keep up to date with our upcoming courses, follow us on Eventbrite or subscribe to our newsletter – email This email address is being protected from spambots. You need JavaScript enabled to view it.
These currently include:
Bystander Training - 24 October
Peer Partner Network - 1st November
Mental Health First Aid - 7th November
L3 Safeguarding - 20th November
---
"In my lifetime, I have seen first-hand the impact of emotional trauma on young children and their families, I have witnessed the devastation of a person suffering with PTSD following attendance at critical incidents and I have supported the long journey to recovery of a suicidal person impacted by early life challenges compounded by stress within the workplace"

Rachel Jones, CLEAR Business Development Manager
Mental Health can impact us at any time of our lives and can occur for so many reasons - stress, bereavement, early childhood trauma, PTSD, abuse, violence… are some examples.
---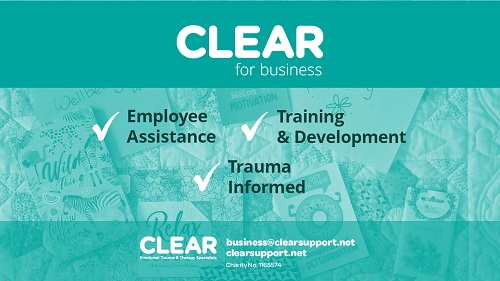 There are compelling social and economic reasons to the business case for workforce wellbeing support read more here: