We provide a broad range of therapy, tailored to the needs of each child, delivered by trained, qualified and experienced therapists all of whom are registered with a Governing Body such as the BACP. Additionally our theraputic service for children and young people is accredited by the BACP.

We support children and young people who have experienced abuse directly or by being linked to an abusive relationship. Abuse may be physical, sexual or emotional.
Therapy makes a difference for children and young people. We see it every day, but we don't take it for granted; we clinically evaluate our work against a set of nationally recognised Routine Outcome Measures and benchmark against other national services. Our work makes a statistically significant positive impact on outcomes for children and young people across a range of measures including emotional literacy, mental health, and positive, safe relationships.
As part of our Centre of Excellence we partner with academic institutions such as the Universities of Plymouth to help improve our practice and extend the knowledge of the effectiveness of counselling and therapy more broadly. An evaluation of our Children Service is available here.
We deliver preventative and early intervention programmes including Clear4 and a service raising awareness of and tackling child sexual exploitation. We help families to understand the impact of abuse on a child and the changes that may occur as they participate in therapy. Family therapy is often a useful way to help to embed the positive journey at home.
What people have told us about CLEAR:
Parents
" . . . it isn't possible to put a figure on the value of the help . . . she is a different child now, much more confident . . ."
Children
" . . . it helps talking about what has happened - it has made me feel stronger inside . . . "
" I now feel like a new normal person after a very long time being locked away in myself - it is lovely to be free."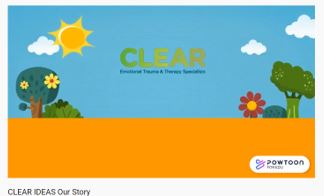 And check out the video made by Freya, Freddie and Hannah about how much they have gained from therapy with CLEAR - https://youtu.be/BxgvYvtElOI
Feedback
We highly value your feedback on our service. It helps us understand what we do well, where we can make changes to improve what we do and where we can grow in terms of developing our services. You can provide us with feedback here
Download the CLEAR for Children and Young People leaflet here pdf CLEAR for CYP (939 KB)
Beginning Together Project:
Fully funded by the Tampon Tax Community Fund, through the Cornwall Community Foundation - this project provides support for women between 18 and 28 weeks pregnant at the start of the project and who have experienced an abusive relationship in the past. The support is focused both on mothers to be, and subsequently on mother and child together. More information is available here pdf CLEAR Beginning Together (1.62 MB)
March 2021 Update: Because of the restrictions associated with the Covid-19 pandemic the start of this project was delayed until early 2021 but is now recruiting. Please find the document referral form here (47 KB)
We are also building a bank of useful resources and links to other organisations and services that provide wider support for people and families.
---