Inside Out offers covid-confident connections from inside to out with supported routes into work and training - a blend of wellbeing support, fun community based projects and routeways to work and training. The Inside Out Projects - Inside Out West Cornwall and Inside Out Coast to Coast are funded by the European Social Fund.
---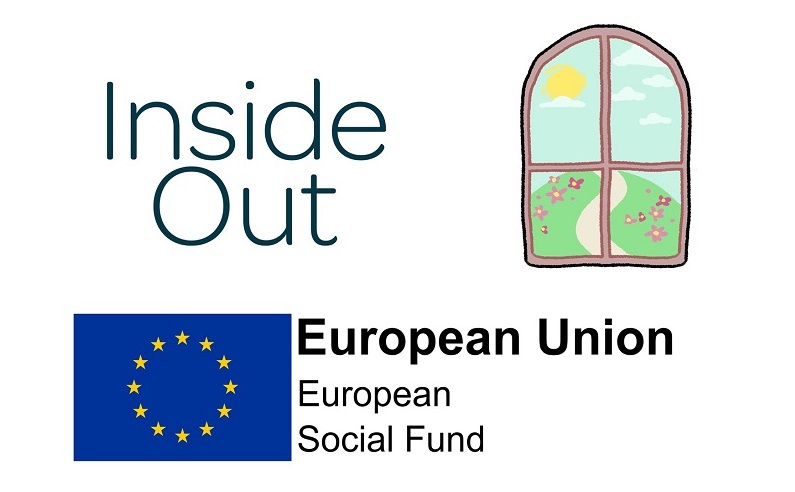 Inside Out supports people who are not working, where emotional wellbeing has been adversely affected by the Covid-19 restrictions. It helps people to feel safe about reconnecting with their community, build emotional resilience, confidence and provide supported pathways into work and training.
The project helps with:
Mental health and emotional wellbeing
Feeling safe and Covid confident
Getting active and back outside
Meeting other people
Work experience through practical, fun community-based projects and activities
Finding the work or training that is right for you
Training in care, construction, hygiene and safeguarding
The projects take a blended approach with an mix of online and face to face support, 1-2-1 and group work – tailored according to individual circumstances.
Inside Out West Cornwall is focussed at targeted wards in West Cornwall including in Penzance, Hayle, St Ives and Helston
Inside Out Coast to Coast is focussed on tageted wards including in Truro, Falmouth and Camborne Pool Redruth
To join Inside Out
Email This email address is being protected from spambots. You need JavaScript enabled to view it. or
Call Sean on 07483 392211
Check out some of the Inside Out activities here
The period of Covid-19 has affected people in many ways, and each person is different. Some of the effects CLEAR has noticed through our day to day work are:
Many people who were experiencing poor mental health prior to lockdown have felt more isolated and vulnerable through lack of networks, social interaction and face to face support.
Some people have been re-traumatised by past experiences coming to the fore.
Some have increased anxiety through concern for family members working in keyworker roles or for the health of elderly relatives
Others have had their livelihoods taken away very suddenly – through business closure, redundancy or inability to maintain work as a self-employed person.
There are also a number of people for whom the lockdown period was more comforting through feeling safe in familiar surroundings and not having to go out into the world every day to face their anxieties.
Overall, emotional resilience has been affected more severely in the latest lockdown period, resulting in increased mental health concerns, general fatigue and reduced motivation.
Many people will need additional support to regain confidence, build emotional resilience and gain the practical and emotional tools to find and keep a job even though there will be increased competition for the jobs available.
Inside Out makes a difference because it is addressing underlying issues of trauma, resilience and emotional wellbeing alongside helping people to feel confident about returning to work and providing opportunities for people to train for different jobs. This gives people the best possible chance of not only securing a job - but keeping it.
Inside Out West Cornwall and Inside out Coast to Coast are both funded by the European Social Fund (through Community Led Local Development managed by Cornwall Development Company), Cornwall Council and the project partners themselves.
---
---